In the news this week
Four aero engineering giants shake up the modifications market
| | |
| --- | --- |
| | Four major aviation engineering companies are combining forces to create the Independent Aircraft Modifier Alliance (IAMA), a transparent market for retrofit modifications. This could be the start of something even bigger, as new members are invited to join more… |
Calling everyone attending Aircraft Interiors Expo 2019!
Are you planning to visit Aircraft Interiors Expo (AIX) 2019 in Hamburg on April 2-4? If so, make sure that you are registered to receive the March issue of Aircraft Interiors International magazine, the Official Media Partner for AIX.

Must-read features for AIX will include: • A special preview of the new designs, technologies and services that will be launched at the show • Show highlights including who will be exhibiting, speaker insights and more • A celebration of 20 years of AIX • How to make to make the most of your visit to the show more…
More news…

Etihad is on a major global recruitment drive

Aeromexico reupholsters fleet to save weight

Extended coatings color program launched

MAC Aero Interiors sets up in Sichuan

TUI Group awards B767 lav retrofit work to MAC

Is Iberia Express's IFE investment paying off?
Weekly quiz
In this week's news, MAC Aero has set up in Chengdu, an area famous for being home to much of China's panda population. Which airline created this special livery to transport panda lovers to the area?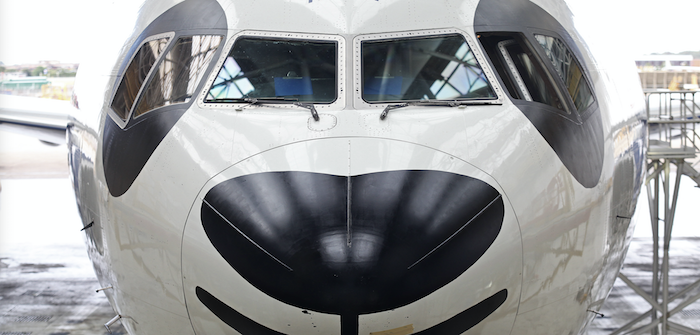 • Air China
• Air France
• Chengdu Airlines
• China Airlines
• Lufthansa
• Sichuan Airlines


Inside this issue…
<< DESIGN PROTECTION
INTELLECTUAL PROPERTY

Innovation in materials and design can revolutionize an industry, and such work deserves intellectual property protection. Two experts in the field of materials patenting and trademark law share advice on how to protect your intellectual assets.

<< INTERVIEW
AMANDA SIMPSON

From augmented reality in engineering, to automated production, to autonomous aircraft… Amanda Simpson, Airbus Americas' VP of R&T, sees technology playing an ever-larger role in aerospace. She also predicts women playing a much larger role at every level.

<< THE 747 AT 50
HIGHER CALLING

2018 is the 50th anniversary of the Boeing 747, so to celebrate, let's recall a journey in what would still be a top passenger experience: the Pan Am B747-100 upper deck. This was the first real mile-high club.

<< MATERIAL TRENDS
TRENDS FORECAST

Our panel of top experts trawled 2018's major fashion, furniture and automotive shows to find the trends that will influence future consumer tastes and the next generation of aircraft trim and finish. 2018's key theme seems to be… softness.