In the news this week
Bombardier launches triple-class, 50-seat CRJ550
| | |
| --- | --- |
| | Bombardier has launched the CRJ550, a new aircraft type based on the CRJ700 platform, which is claimed to be the first triple-class 50-seat aircraft in the world. These are the details so far more… |
Singapore Airlines opens digital innovation lab
| | |
| --- | --- |
| | Singapore Airlines has opened the KrisLab digital innovation lab as part of an investment program aimed at making it the world's leading airline in terms of digital implementation more… |
Calling everyone attending Aircraft Interiors Expo 2019!
Are you planning to visit Aircraft Interiors Expo (AIX) 2019 in Hamburg on April 2-4? If so, make sure that you are registered to receive the March issue of Aircraft Interiors International magazine, the Official Media Partner for AIX.

Must-read features for AIX will include: • A special preview of the new designs, technologies and services that will be launched at the show • Show highlights including who will be exhibiting, speaker insights and more • A celebration of 20 years of AIX • How to make to make the most of your visit to the show more…
More news…

Will investor confidence falter in 2019?

FACC gains EASA STC for Luggage Space Upgrade systems

Eight steps to an FAA STC

Trenchard gains EASA and GCAA accreditations for Dubai MRO

Neos signs up for Viasat connectivity on B787 fleet

Lufthansa Systems offers flexible refinancing for IFEC

BA woos Valentine's flyers with a romantic IFE lineup

United's IFE is live, free and accessible to all

IFE vendor invests in China after CAAC relaxes restrictions

Baggage tops airBaltic's ancillary earnings

AIX exploits opportunities for growth in IFEC
Weekly quiz
This week sees the launch of Bombardier's CRJ550. What does the 'C' in CRJ stand for?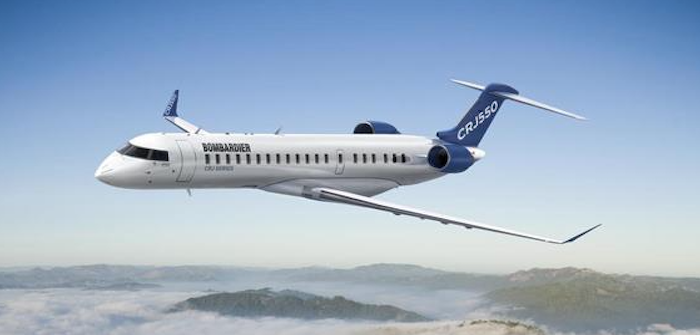 • Calgary
• Canadair
• Canadian
• Carrier
• Continental


Inside this issue…
<< DESIGN PROTECTION
INTELLECTUAL PROPERTY

Innovation in materials and design can revolutionize an industry, and such work deserves intellectual property protection. Two experts in the field of materials patenting and trademark law share advice on how to protect your intellectual assets.

<< INTERVIEW
AMANDA SIMPSON

From augmented reality in engineering, to automated production, to autonomous aircraft… Amanda Simpson, Airbus Americas' VP of R&T, sees technology playing an ever-larger role in aerospace. She also predicts women playing a much larger role at every level.

<< THE 747 AT 50
HIGHER CALLING

2018 is the 50th anniversary of the Boeing 747, so to celebrate, let's recall a journey in what would still be a top passenger experience: the Pan Am B747-100 upper deck. This was the first real mile-high club.

<< MATERIAL TRENDS
TRENDS FORECAST

Our panel of top experts trawled 2018's major fashion, furniture and automotive shows to find the trends that will influence future consumer tastes and the next generation of aircraft trim and finish. 2018's key theme seems to be… softness.