As International Space Station crew members prepared for an action-packed October, they broke records, tested virtual reality headsets and even grew plants in microgravity. Read on for science highlights from a stellar September in space.
Green thumbs galore
There are plants aplenty on the International Space Station, with several investigations looking into different aspects of plant behaviour in microgravity.
A NASA experiment, known as Plant Habitat-04, has astronauts tending to New Mexico Hatch Green Chili peppers – a species that takes a long time to germinate and bear fruit. APEX-08 focuses on cress and the mechanisms plants use to modulate the stress of microgravity, while a new European investigation, Eklosion, studies the psychological benefits of gardening and observing nature off our Earth.
This French-led student experiment centres on a small capsule that reproduces natural light and enables astronauts to tend to and watch the growth of a Marigold plant. The bottom segment of the capsule contains small messages and scents from Earth. Throughout September, ESA astronaut Thomas Pesquet took photos and documented attempts to grow the plant in its capsule as others on Earth grew and shared images of their own Marigolds on Twitter using hashtag #EklosionISS.
Do astronauts dream of space?
Another CNES-led experiment Dreams uses a special headband to evaluate the sleep quality of astronauts in orbit. On 24 September, Thomas performed his third session, donning this special headband before he drifted off and completing a questionnaire upon waking.
Studying how sleep is influenced by life in weightlessness and isolation through collection and analysis of neuroscientific data will help prepare for future missions to the Moon and Mars.
Ahead of the game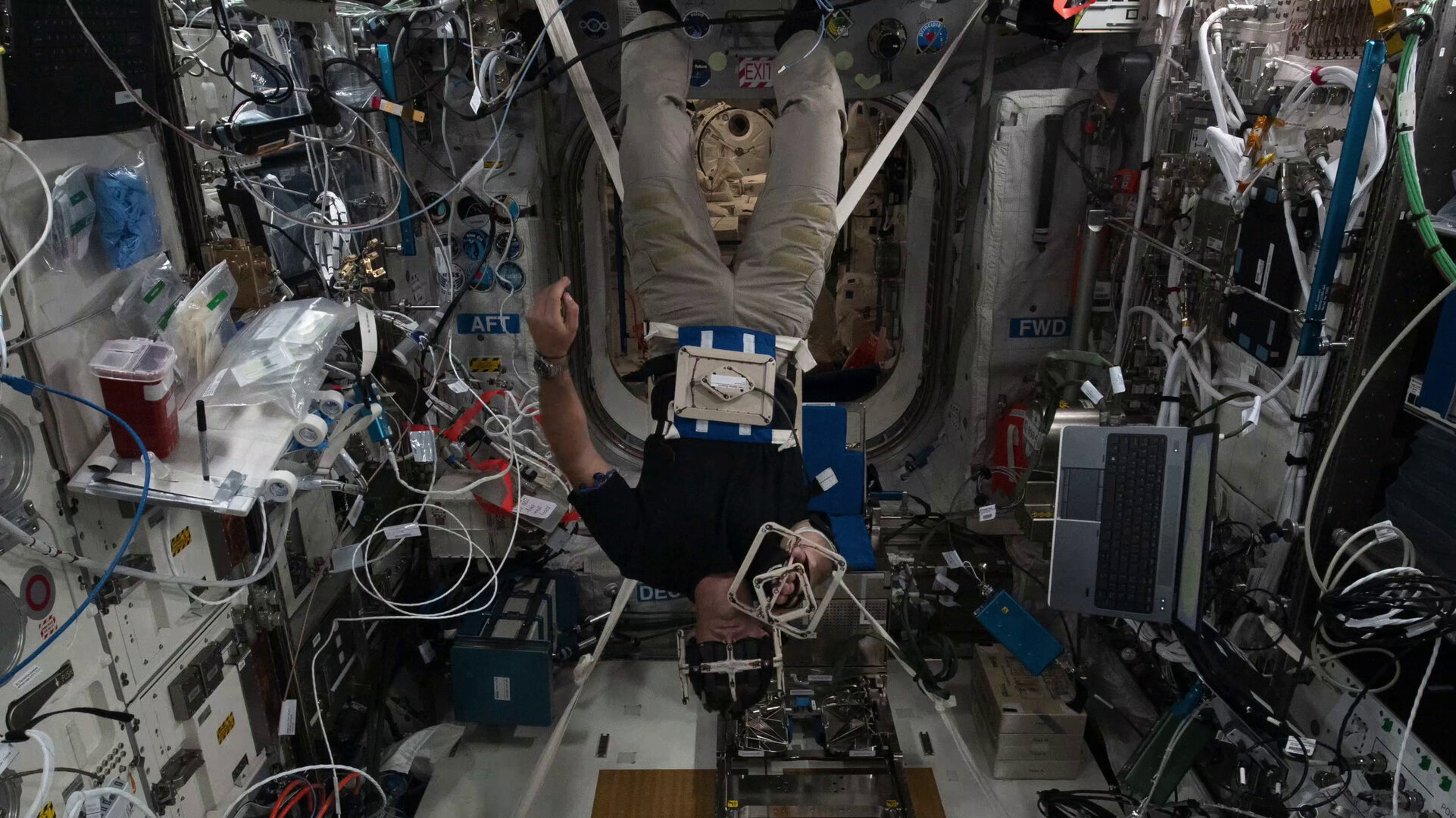 Special headgear is not confined to crew quarters. Familiar European experiment Grasp (Gravitational References for Sensimotor Performance) and more recent additions Immersive Exercise and Pilote all make use of VR headsets to study and enhance life in low-Earth orbit.
Astronauts exercise for around two hours a day, six days a week. Even on Earth, this kind of routine could get monotonous. Immersive Exercise aims to develop a virtual environment for crew members using virtual reality to help with motivation as they exercise in space.
Pilote uses the same headset but for a different purpose. This experiment evaluates a new way to provide tactile and visual feedback to astronauts during robotic operations. The headset and a haptic device recreate the feeling of pressure and touch when tele-operating a robotic arm. Results will improve control interfaces on the Space Station and future spacecraft for lunar and martian missions.
Thomas investigated some drifting and flickering of scenes that had been occurring during Immersive Exercise and Pilote. New software was uploaded, tests were run and performance has improved.
A new European record
Not strictly science, but we could not wrap up our September summary without mentioning the spacewalk.
On Sunday 12 September, Thomas and Japanese Aerospace Exploration Agency JAXA astronaut Aki Hoshide broke a record when they stepped beyond the airlock in the first spacewalk performed without an American or Russian spacewalker.
The purpose of this spacewalk was to prepare the Station's P4 truss for further installation of the new iROSA roll-out arrays. All went well and Thomas secured another record – the most cumulative spacewalking hours by a European astronaut.
Scratching the surface
With so much science happening in orbit every single day, not to mention technology demonstrations, maintenance and operations, this is just a small slice of what is on offer. For more on activities during Thomas's Alpha mission and science in space, visit the Alpha webpage.
Stay tuned throughout October for exciting events including Thomas's time as International Space Station commander and ESA astronaut Matthias Maurer's first journey to space.